This year our efforts have paid off and despite there being more mentoring organizations than there were in 2011 (175 in 2011 and 180 in 2012), this year in Debian we got 81 submissions versus 43 submissions in 2011.
You can see here the graphs of applications against time from this year: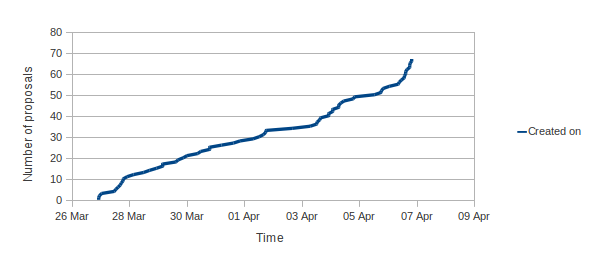 The result is this year we'll have 15 students in Debian versus 9 students last year! Without further ado, here is the list of projects and student who will be working with us this summer:
If you want to know more about these projects, follow the links and ask the students (and mentors)!
Comments
Ana Beatriz Guerrero Lopez: Debian in the Google Summer of Code 2012 | Linux-Support.com said, on 2012-04-27 20:46:58+02:00:

[...] source: Go to Source Feed source: http://planet.debian.org/rss20.xml License: The original licenses are retained – [...]

bbbbbb said, on 2012-04-27 20:53:12+02:00:

Hi Anna,

it would be great to have a second graph for the students participating and a third graph for the students who successfully end GSoC.

Greetings.

Debian A Google Summer of Code 2012 (Debian-linux.cz) said, on 2012-05-01 08:29:42+02:00:

[...] tento rok se bude debian účastnit akce Summer of Code jako vedoucí organizace. Celkem k debianu dorazilo 81 přihlášek, [...]

Linux Blog » Blog Archive » Debian a Google Summer of Code 2012 said, on 2012-05-01 18:26:32+02:00:

[...] tento rok se bude Debian účastnit akce Summer of Code jako vedoucí organizace. Celkem k Debianu dorazilo 81 přihlášek, [...]

Stefano Zacchiroli: overlapping bits from the DPL for April 2012 | Linux-Support.com said, on 2012-05-06 17:47:10+02:00:

[...] and we jumped from 9 to 15 approved projects. More details about Debian in GSoC have been posted by Ana. I encourage all of you to take the chance of GSoC to bond with students and show them how nice is [...]